The EU's offshore wind target of 60 GW by 2030 seemed very ambitious when it was proposed in November 2020. As member states are firming their lease area plans for the next years, the union is set to far overshoot that target. However, the plans are highly time-sensitive and facing numerous supply chain risks.
Planned lease rounds suggest 87 GW installed capacity by 2030 
As late as during COP26 in Sharm El-Sheikh in November 2022, offshore wind stakeholders called for visibility and clarity on future offshore wind auction plans to allow investments in production capacities and attract financial capital. They highlighted that the EU's target of 60 GW installed offshore wind capacity by 2030 was overly optimistic and not worth much unless it was backed by tangible lease area plans with capacity- and time schedules. 
EU member states seem to have accepted the challenge and have over the past 12 months ramped-up their offshore wind implementation plans, providing the industry visibility into the annual expected capacities over the next seven years. And the numbers are promising. In fact, several member states have floated auction schedules tightly aligned with their national offshore wind targets (Figure 1). 
Figure 1: EU member states' offshore wind targets, lease activity and project pipelines by 2030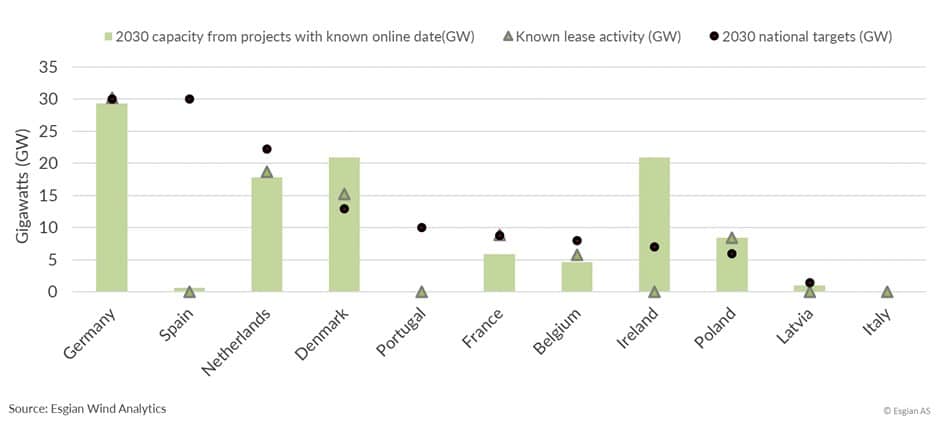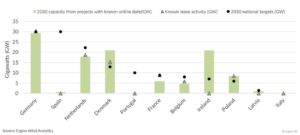 Spearheaded by Germany, the Netherlands and Denmark, EU member states are headed towards 87 GW installed offshore wind capacity by 2030, almost 50% higher than the union's 60 GW target. Almost all projects will be based on bottom-fixed solutions, starting auctions for most of the capacities coming online by 2030 already in 2023. The 87 GW does not include any capacities coming through open-door policies, which have been common amongst other in Denmark but were put on hold earlier this month. 
The volumes and timelines of the members states vary significantly, spanning from Poland's 11 lease rounds clustered in the first half of 2023 to Germany's auctions spanning from mid-2023 to late-2024 (Figure 2). Germany also has lease rounds planned beyond 2024 and is planning to launch 4 GW per year throughout 2030, providing visibility on volumes coming online all the way to 2035. According to Esgian Wind Analytics, 2023 and 2024 will be busy years for offshore wind developers with 20 confirmed and four unconfirmed lease areas up for grabs (Figure 2). 
Note that the large discrepancy between the offshore wind target and project pipeline in Ireland is due to overlapping offshore wind sites, leading to several project capacities being double-counted. Once lease areas have been awarded, the project pipeline will be downward revised.  
Figure 2: EU member states' offshore wind lease activity overview – February 2023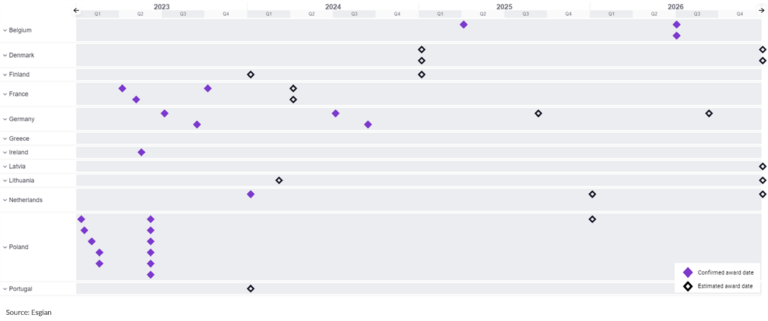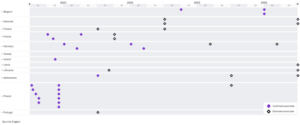 Time is short and capacity is tight 
However, a confirmed pipeline of offshore wind lease rounds does not necessarily guarantee that the EU will hit its 2030 offshore wind target. Given the long lead times on offshore wind projects, spanning as long as 7-9 years including permitting processes, the room for delays and postponements to auction rounds or project developments is very limited. Areas auctioned in 2024 will most likely run on a very tight schedule to reach a Commercial Operation Date (COD) by 2030, and the likelihood of hitting that deadline rapidly diminishes once we move into 2025. 
In addition to the risk of auction delays, the CODs of the projects would also be highly dependent on supply chain availability and access to skilled workforce. Offshore wind projects in Europe are already facing delays due to limited capacities in the supply chains, and companies like Vestas are highlighting workforce requirements as a potential, coming bottleneck.  
Also installation vessel supply is a concern. Only two months ago, in December last year, EDF Renewables reported that the COD of the Calvados project in France has been postponed by 8-9 months from the end of 2024 to the third quarter of 2025 due to lack of turbine installation vessel availability. This delay occurs in a market where demand growth is still in its infancy, and supply constraints are expected to become far more severe when installation activity rapidly accelerates from late-2024 onwards (Figure 3). 
Figure 3: Offshore wind turbine installation vessels demand and supply – February 2023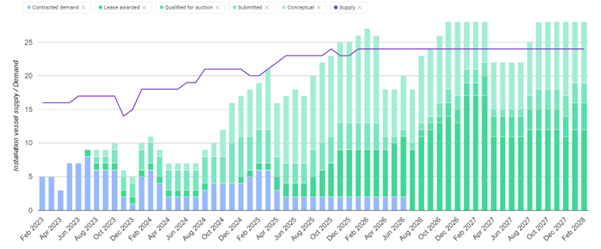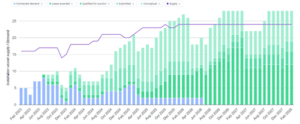 Net-Zero Industry Act to the rescue? 
To overcome the expected supply chain bottlenecks in the offshore wind and other green transition sectors, the EU on 1 February launched the "Green Deal Industrial Plan for the Net Zero Age". As part of the plan, the EU Commission will soon propose a Net-Zero Industry Act to underpin industrial manufacturing of key technologies in the EU. Amongst other, the act will identify EU manufacturing capacity goals to meet the 2030 climate targets, including targets for offshore wind components such as turbines. According to the EU Commission, the act will consider the whole supply and value chain across borders, so that supply does not become a bottleneck. 
Such capacity targets are needed as the offshore wind sector is already showing signs of growth pains that could jeopardise the 2030 climate goals. The question is whether upcoming support mechanisms for supply chain growth will arrive too late.