The upcoming merger of Noble and Maersk Drilling will have an impact on the entire global drilling market, but the ramifications will be felt especially hard in the North Sea where the merger control process is having a direct impact on the jackup fleet.
As it stands, there are 36 rigs in the North Sea fleet – a reduction on previous years due to high levels of attrition (especially in the standard jackup fleet) following two downturns in relatively quick succession. Similarly, the number of contractors has also fallen due to increased consolidation since 2014. Together Noble and Maersk Drilling make up 42% of the North Sea fleet while the remaining seven contractors make up the final 58%.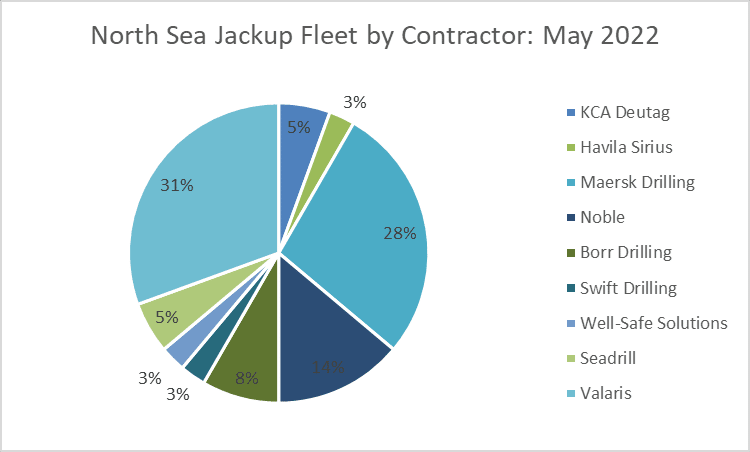 Figure 1: North Sea jackup fleet by contractor – May 2022. Source: Esgian Rig Analytics
In April, the UK Competition and Markets authority (UK CMA) confirmed its Phase 1 decision that the Noble-Maersk merger "gives rise to a realistic prospect of a substantial lessening of competition in relation to the supply of jackup rigs in NW Europe (excluding Norway)." As such, a "remedy proposal" was outlined in which a number of jackups in Noble's fleet would be divested to a "suitable purchaser".
Noble announced on 9 May, that the UK CMA had decided that there "are reasonable grounds for believing that one of these remedy proposals may be accepted", namely – the divestment of Noble Hans Deul, Noble Sam Hartley, Noble Sam Turner, Noble Houston Colbert, and Noble Lloyd Noble [Maersk Innovator was previously mentioned as an alternate to Noble Lloyd Noble]. The divestment would include all related support and infrastructure that the purchaser will need to run these five units as a standalone business including offshore and onshore staff.
Already, one of these Noble "remedy rigs" is headed for the Middle East: Noble Houston Colbert on long-term charter with QatarGas starting later this year. It is not the only North Sea jackup lined up to leave the sector, however, as Borr Drilling's Ran is expected to move to Mexico in late summer. In addition, it is understood that a small number of other units are under consideration for marketing in other global regions.
The removal of more jackups could see challenges ahead in the North Sea if demand continues to rise at the levels suggested by government and operator promises regarding the energy security situation in Europe. Costs are rising for operators globally, including in the North Sea albeit at a slight lag, with dayrates on an upward trajectory due to more work emerging and fewer rigs being available. Already a number of projects in the North Sea are dependent on funding and affordability – a steep rise in operating costs may make some of these projects untenable for now, at a time when demand for oil and gas is expected to continue to rise exponentially.
There has been an upswing in the number of rig sales in recent months with rig values rising accordingly. These sales, however, have predominantly fed into the Middle East where jackup demand is continuing to rise at some pace. ADES is leading the chargein regards to jackup purchasing by some margin.
As it stands, the potential "remedy rigs" (including both Noble Lloyd Noble and Maersk Innovator) are altogether valued in the range of USD 721-797 million according to Esgian Rig Values. Market chat indicates that there are up to eight potential purchasers of these "remedy" units including contractors with little-to-no North Sea experience and some who are considering re-entering the jackup market. Any one of these potential scenarios will see a change in the landscape.
While an agreement is sought with a potential purchaser of these rigs, it will come down to the UK CMA to decide whether the purchaser is a suitable candidate. A third-party will also be drafted in to comment. As it stands, it's unclear how long this process will take, however, if the proposal is accepted then the merger remains on track to complete in mid-2022.