Signs of recovery are clear across the entire offshore drilling industry: rig supply is tightening, dayrates are rising and news of significant and successful exploration campaigns are once again hitting the headlines.
While exploration had been down in recent years, the first half of 2022 saw a resurgence with some extremely positive results in new areas that could have lasting impact on the offshore rig market for years to come.
Namibia on the rise after two game changing discoveries
The most significant discovery to be announced so far this year is undoubtedly TotalEnergies' Venus offshore Namibia. Reports have indicated that Venus could prove to be the largest deepwater find the world has seen to date with potentially over 13 billion boe. It is understood TotalEnergies is planning appraisal drilling later this year which will provide more certainty.
Market chat is giving rise to speculation that Namibia could soon be seeing the same levels of drilling activity as Guyana is experiencing. This is down to the fact that, after years of disappointments and minimal activity, Namibia has seen not one but two game-changing discoveries this year. Shortly before the Venus discovery was announced Shell was confirmed to have made a discovery at Graff with reports indicating that it could hold around 2 billion barrels of oil and up to 6 trillion cubic feet of gas. Further exploration drilling activities were undertaken immediately after the Graff well with drilling to resume under the current year long charter of Maersk Voyager.
Further exploration planned as Guyana continues to see results
Guyana, as briefly mentioned, continues to see positive well results with no less than five new discoveries announced so far this year including Fangtooth, Lau Lau, Barreleye, Lukanani and Patwa for ExxonMobil. As it stands there are six drillships working for ExxonMobil offshore Guyana with firm charters stretching into late 2025 for the four Noble rigs and options for two Stena units stretching up to 2024. ExxonMobil is understood to be looking towards drilling 12 further exploration and appraisal wells at the Canje and Kaieteur blocks offshore Guyana. It is yet to be seen whether these additional plans, on top of ongoing development drilling, will see additional rig capacity added to the fleet but it is a possibility.
Neighbouring Suriname continues to garner attention with TotalEnergies and APA Corporation announcing a discovery at Krabdagu in Block 58 in February. Operator TotalEnergies confirmed at the time that the well encountered approximately 90m of net oil pay. At least three further exploration and appraisal wells are planned at Block 58 this year.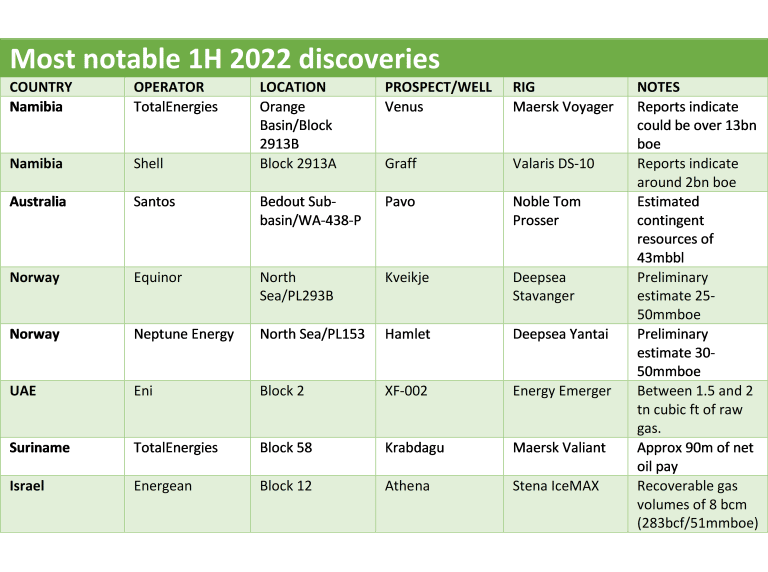 Norway ahead of the game in North Sea
Norway has ramped up exploration drilling for 2022. Aker BP and Equinor are understood to be planning to drill a total of 13 and 25 wells, respectively, over the course of the year with other operators of course adding to the overall tally.
Already some significant discoveries have been announced in Norwegian waters. Most recent discoveries include Equinor's Kveikje (temporary name) which contains preliminary estimates of between 25 and 50 million barrels of recoverable oil equivalent, and Neptune Energy's Hamlet, which contains preliminary estimates of 30 to 50 barrels of oil equivalents.
Success for Santos and Eni in shallow waters
In shallow waters, Santos has made a discovery of 43 million barrels of oil at the Pavo well in the Dorado oilfield off Western Australia. Sights are now set on SapuraOMV to see whether its Kanga well will also hit pay.
Meanwhile, Eni was reported to have made a discovery of between 1.5 and 2 trillion cubic feet of gas at Block 2 offshore Abu Dhabi. After the initial report, drilling continued into second quarter with full assessment of the results to follow conclusion of the programme. This is the first discovery to have been made from acreage awarded during ADNOC's first ever competitive bid round.
Not all that glitters…
Of course, while there are successes, there have also been some disappointments following hotly anticipated wells drilled earlier in the year. ExxonMobil's Cutthroat-1 well in the Brazilian Sergipe-Alagoas basin failed to make a discovery according to partner Enauta, while Eni also hit dust at the Mlima-1 well offshore Kenya. For the former it was a continuation of ExxonMobil's frustrations offshore Brazil where the operator is yet to make a significant find despite increased investment in securing additional acreage.
For the latter, which was the first exploration well to be drilled off East Africa in some years, it marks the failure to discover the first commercial oil in the region. In the near term there are few plans for further exploration in East Africa with campaigns from both Eni and ExxonMobil offshore Mozambique on hold for now.
Overall, however, it has been an encouraging first half of the year for global exploration with world-class discoveries set to shake up key regions. Still to come are yet more high-profile wells in predominantly deepwater environments. Following the phenomenal success of Graff, Shell's next exploration well at the Jaca prospect off Sao Tome and Principe will be closely watched, likewise Eco Atlantic's Gazania well, which lies in the Orange Basin along with Graff and Venus. In shallow waters, some exploration drilling is planned from PTTEP across a number of blocks off Malaysia following a number of successful wells in 2021. In addition, a couple more wells are anticipated in the North Sea.