The jackup market continues to pick up steam worldwide with both the number of awards, and the total duration booked, on pace to exceed 2021 by a meaningful margin.
Globally, between the start of this year and the end of May, jackup contractors secured 100 charters adding up to about 164.5 rig-years of work. The average duration for these new jackup contracts is about 1.7 rig-years. For all of 2021, Esgian Rig Analytics recorded 187 jackup awards totalling 216.6 rig-years of work. These awards had an average duration of almost 1.3 rig-years. This means over the first five months of 2022 rig contractors have already matched about 76% of the jackup time booked in all of last year.
Except for February, each month so far this year has had an average contract duration over 1.5 rig-years. February, which tied with April for the most contracts finalised at 22, had the lowest average duration at about 0.7 rig-years. With 45 known jackup requirements still open for this year, and the expectation that high commodity prices and an increased focus on energy security will likely add more near-term demand, 2022 jackup awards should outpace 2021 handily.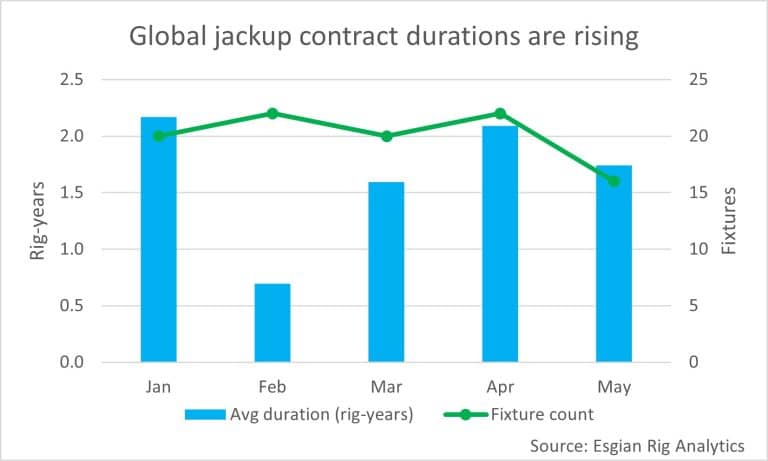 So which regions are driving the increase in demand?
The Middle East has been the most active region by far, booking over 43,000 days, or nearly 119 rig-years of work this year, with no signs of the contracting effort slowing down. Almost all this work has been booked as multi-year charters, and all of it is scheduled to start either this year or next year. While some of this backlog represents renewals of existing charters that were expiring, some of the work is for incremental jackups and will be filled by units coming from other locations. Of the 23 jackup sales recorded by Esgian Rig Analytics since the beginning of this year, at least 18 are Middle East buyers. While the remaining five buyers are currently undisclosed, three of these jackups are understood to have been sold to the Middle East market.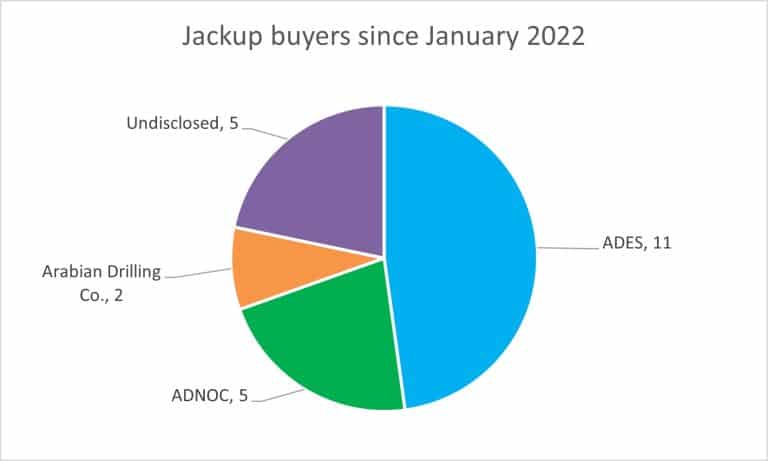 Following the Middle East, the India/Subcontinent region is a distant second in terms of jackup time booked this year, having chartered about 13 rig-years of work this year. The Southeast Asia market rounds out the top three jackup markets in terms of assignments booked this year.
Returning to the topic of known open requirements, the Middle East dominates, as tenders continue to come out for this region. The India/Subcontinent region is second with several multi-year jackup tenders open. In third place is Mexico, where much of the incumbent fleet will be rolling off charters this year and next. Therefore, the jackup market is expected to remain hot as we progress through the remainder of this year and into next year as well.
For more insights on the jackup market, come back next week for our next blog and be sure to watch this space for more details and a link to register for our upcoming webinar on the jackup market, which will be held on 29 June 2022.