As the Asian offshore wind market is emerging, is the South Korean supply chain the beacon in the night? The South Korean supply chain is mature and has been used for some time for projects outside Korea. This experience places South Korea in a favorable position to fast-track offshore wind in its own country as well emerging markets.
Some smaller projects offshore wind developments in South Korea have become operational and a few are under construction. Yet, it is the projects stuck in the pipeline that will transform the South Korean market. A contributing factor in getting these projects moving will come from the manufacturers.
Domestic manufacturers are exceptionally important in the development of offshore wind in South Korea. Their participation goes beyond just manufacturing components for offshore wind. They are also sometimes engaged in an active role of promoting offshore wind in South Korea. This significant role can help secure investment to expand and establish more manufacturing capacity. A good portion of these investments will come from foreign developers seeking to develop in South Korea and turning to domestic manufacturers for partnerships and MoU's.
A number of MoU's relating to the offshore wind industry have been signed. Despite not having any binding commitment, these agreements represent an important step forward for offshore wind development in South Korea. Some MoU's, like the one between SK Oceanplant and Corio Generation where the scope extends beyond the South Korean market with a more global footprint, are comprehensive. Other MoU's, like POSCO has with several developers, can represent a more symbolic gesture of collaboration. Regardless of the scope of these agreements, they do underscore South Korea's evolving role as a supplier to the global industry as well spreading awareness of offshore wind in South Korea and beyond.
The agreements made by turbine manufactures have more clarity. The goal is to establish a solid footprint by adding turbine manufacturing facilities in South Korea. Several well-known turbine manufacturers have teamed up with South Korean manufacturers. As European and Chinese turbine development is further ahead than South Korean turbine manufacturers, they are trading manufacturing capacity in South Korea to fast-track turbine development. Mutually beneficial agreements have been confirmed by Doosan Enerbility and Siemens Gamesa and Unison and Mingyang. Vestas has taken a different approach and teamed up with local tower manufacturer CS Wind. Despite being a South Korean company, CS Wind does not have a manufacturing facility in South Korea. Yet, both companies are seeking to establish a manufacturing facility in South Korea.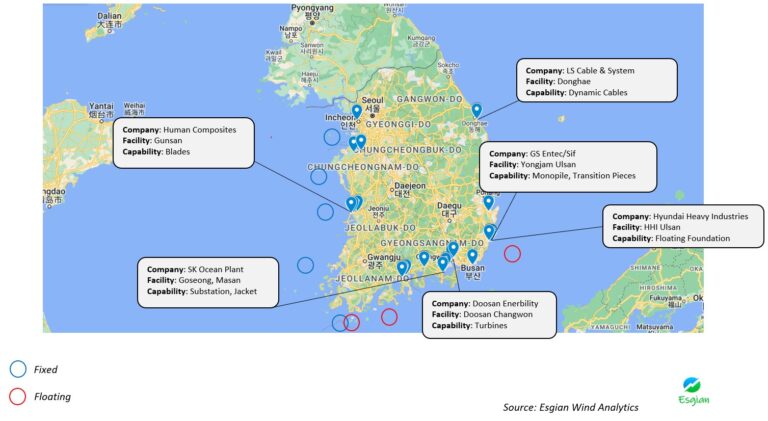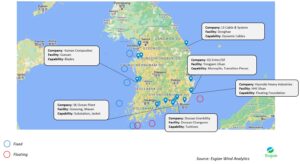 The South Korean offshore wind supply chain is impressive. More or less self-sufficient, it can be compared to the European and Chinese supply chain. The bulk of the manufacturing capacity is situated in the east of the country, providing an ideal position for floating wind as it is close to the majority of the projects.
The majority of fixed wind projects are located in the west and northwest of the country, with a few in the south overlapping with floating wind projects in the south. This will likely lead to a gradual expansion of manufacturing on the West coast of the peninsula.
South Korea commands a large number of shipyards which can serve the offshore wind industry well. Vessels built for the offshore wind industry for companies like RWE OLC, Seajacks and Eneti have been constructed in South Korea. Recently Hyundai built a jack up vessel for the South Korean market, the first of its kind. The same vessel is now installing turbines on the Halim project in Jeju. South Korean shipyards will continue to supply the wind market with vessels.
Moreover, regardless of the number of shipyards in South Korea one can't jump to the conclusion that South Korean yards will be major manufacturers of floating structures. Shipyards won't just drop other work to build floating structures for the offshore wind market. Offshore wind is at the back of the line when it comes to priority. This might change as floating wind has a positive outlook in South Korea, with, initiatives such as SK Oceanplant expanding its capacity to be able to accommodate manufacturing for floating structures. Nevertheless, time will tell if it will be worth manufacturing these in South Korea or if it will be outsourced to shipyards in China or elsewhere.
South Korea possesses a well working supply chain that will be key for the development of offshore wind in the country and beyond. New markets like the Philippines and Australia are emerging and no doubt South Korea will play a pivotal role supplying these markets. However, it is important to not overestimate the capabilities of the supply chain because no market is without challenges. Even though what they have is impressive, expansion is still needed.