The Gulf of Mexico is one step closer to getting offshore wind power after BOEM proposed auction terms.
The Gulf of Mexico is one step closer to getting offshore wind power. On 24 February the U.S. federal Bureau of Ocean Energy Management (BOEM) posted a Proposed Sale Notice for the Gulf of Mexico in the country's Federal Register. The Gulf has long been under consideration as a potential wind energy hotspot, with BOEM initially outlining two potential areas for development; Wind Energy Area (WEA) I and WEA M. After soliciting industry feedback, WEA I has now been chiseled down and split into two blocks, OCS-G 37335 and -336, the energy from which will be transported to Galveston, Texas. WEA M (now OCS-G 37334) has only been slightly reduced in size from initial proposals and will connect to Lake Charles, Louisiana. The posting of the PSN is a clear signal to the industry that BOEM is serious; GOM's first offshore wind auction will happen in 2023, perhaps even within the first half of the year.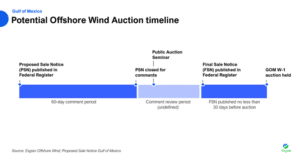 The PSN also offers a peak at the Bureau's preliminary auction terms. This includes the likely auction format, as well as regionally specific incentive schemes. Within the proposed terms, BOEM suggests a multifactorial approach, as was used in the recent offshore wind auction in California. As in the California auction, bidders would be able to satisfy the asking price in any given round with a bid composed of cash and credits. Credits are cumulative, and together can account for as much as 30% of the cash bid. In the case of the Gulf of Mexico, bidders may be granted credits for commitments in two categories; Workforce Training/Supply Chain Development (up to 20% of cash bid) and contributions to a Fisheries compensatory mitigation fund (up to 10% of cash bid). Notably, the commitments to workforce training and supply chain development apply to the U.S. as a whole and are not state-specific, while the stipulations around contributing to a Fisheries compensatory mitigation fund indicate that funds will be used to "compensate for potential negative impacts to commercial and for-hire recreational fisheries" in the region.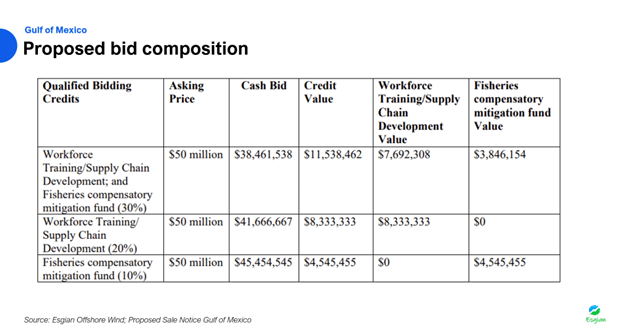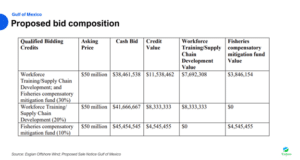 BOEM proposes that the three blocks on offer shall be auctioned together, but that bidders may only bid on one are per region, meaning one of the two blocks in the Texas Coast Region, and the one block in the Louisiana Coast Region.
Ultimately, the Gulf's PSN offers few surprises, but serves as a positive signal assuring the market of what is to come. Together, the three blocks could contain more than 8 GW of potential, with major players such as Avangrid, TotalEnergies, Shell and Mainstream Renewable Power already qualified to partake in the bidding.